On the verge of being one-quarter complete with the 2018 NFL season, it has been filled with the unexpected. The New England Patriots are now 1-2 and seem to already have a "must win" game this week vs Miami. The Buffalo Bills, coming in as a 17 point underdog on the road vs Minnesota, somehow string together a 21 point victory. That checks in as the third biggest upset in league history. Terrible news came out of San Francisco as 49ers QB Jimmy Garoppolo suffered a torn ACL vs Kansas City. To wrap up some week three headlines, Jon Gruden is winless in 2018 and Khalil Mack has already solidified his case for MVP. Who knows what will be in store for us Sunday, but for fantasy's sake, check out some of the starts and sits for the week to (hopefully) give you the edge over your opponent.
Starts
Andy Dalton (@ ATL)
Andy Dalton was featured in my week one starts and sits and he makes a return here in week four. This game has the makings of a shootout and Dalton should be the main beneficiary. Going against a Falcons defense with no Deion Jones, Keanu Neal, or Ricardo Allen, Dalton should consistently move the ball up and down the field Sunday. With the Falcons offense being as efficient as they come, game script should be in Dalton's favor where he should have a high amount of pass attempts. With Joe Mixon to miss another week after his minor knee surgery, that adds to more dropbacks for Dalton as replacement Giovani Bernard doesn't have the size to rack up 20+ carries on the ground. This game could easily see 50+ total points scored, and with A.J. Green healthy and back in the fold after suffering a groin injury last Sunday, start Dalton with confidence.
Giovani Bernard (@ ATL)
Now yes, I know I just said Giovani Bernard is not equipped to handle a bellcow role on the ground. But Bernard brings plenty of versatility and speed on the receiving end. More of a dual threat RB, Bernard tends to be balanced both on the ground and in the air (based on targets and touches, not yards) when given the starting nod. Last week with Mixon out, Bernard saw 12 carries and nine targets (five catches). Bernard received nearly all of the carries against Carolina so there's nothing even close to a committee here and outside of rookie Mark Walton, it's his backfield until Mixon gets healthy. If you have a share of this game either for Cincinnati or Atlanta, don't overthink it, plug them in and watch the shootout.
John Brown (@ PIT)
John Brown has lived up to his preseason hype as he's averaged over 70 yards per game to go with two touchdowns. Brown is showing he isn't solely a deep threat as he has accumulated 23 targets through three games, roughly eight per week. A matchup against the Steelers should excite Brown as Fitzpatrick threw for over 400 yards last week on that defense. With Flacco targeting Crabtree and Brown predominantly while moving the ball consistently, Brown could flourish against this porous Steelers secondary. John Brown (as long as he remains healthy) is emerging into an every week starter if the target share and production he started the season with is maintained.
Eric Ebron (vs HOU)
Eric Ebron has had a hot start to 2018 compared to what he accomplished in Detroit. With two touchdowns on the year and a healthy average of seven targets per game, Ebron has been active. Last week, Jack Doyle was out which led to eleven targets for Ebron. It looks like Doyle will sit out a second straight week and Ebron gets an easier matchup with the Houston Texans. It seems that it's even between Ebron and Ryan Grant for the #2 option behind T.Y. Hilton, but with the way Andrew Luck heavily targets his tight ends, Ebron is in a good situation week four at home against Houston.
Browns Defense (@ OAK)
Last year, the Browns would have been one of the last teams you thought of when it came to fantasy defenses. However, they have been solid in 2018. Myles Garrett and Denzel Ward have been difference makers so far and the Browns get a favorable matchup with the winless Oakland Raiders. Derek Carr has been up and down through three games and well, so has the whole Oakland offense. I think the Browns matchup well against the Raiders as they've been tough against tight ends all year (Jared Cook being the most targeted Raiders receiver). With a strong secondary, Carr may not have open passing lanes all game. Carr is always a potential turnover waiting to happen and with the Browns piling up turnovers through three games, I'll take that matchup. If you have a defense with a bad matchup, consider the Browns in week four.
Sits
Ryan Fitzpatrick (@ CHI)
It looked as if the FitzMagic was going to end on Monday night as he threw three first half interceptions. However, he almost led the Bucs to a second half comeback that would have been remembered for a long time. With Jameis Winston eligible to return this week, they will probably stick with Fitzpatrick based on how well he's played. I don't think this is the week to start him on your team however. This Bears defense has been strong in all areas and has forced plenty of turnovers. Match that with having to worry about Khalil Mack coming off the edge, and Fitzpatrick may have a long day. Now I'm not saying he's completely unstartable, but I would look elsewhere. If you have to play Fitzpatrick, at least temper expectations for this contest in Chicago.
Jay Ajayi (@ TEN)
(**Dealing with a back injury, expected to play vs Titans**)
Jay Ajayi started the season on fire with two touchdowns against Atlanta. When playing the Bucs in week two, he picked up a back injury that forced him to miss last week. Reports claim that he's going to play Sunday in Tennessee and the combination of the injury and the matchup are enough to put Ajayi on the bench. This injury news seems to imply that Ajayi is not 100% and that he will "play until the injury heals itself." That's not what you want to hear out of a RB you own. The Titans have been tough against the run as they've limited Kenyan Drake and the Fournette-less Jaguars. It seems that at least for this week, Ajayi will be touchdown dependent as they could lean towards using Clement and Smallwood predominantly between the 20's. I suggest looking elsewhere if you can but if not, proceed with caution.
Amari Cooper (vs CLE)
There was plenty of hype surrounding Amari Cooper with new head coach Jon Gruden taking over the team. Many thought Cooper would be primed for a bounce-back year in 2018, but it hasn't gone to plan. In week two, Cooper racked up over 110 yards on 10 targets against Denver. However in weeks one and three, he failed to reach 20 receiving yards. It appears very hard to trust Cooper in the early stages of this season based on how inconsistent he's been. The matchup this week won't get any easier. Matched up with presumably rookie standout Denzel Ward, he's going to have to fight for every target he gets. Cooper is plenty talented but doesn't seem to be living up to expectations especially after giving up on what would have been a 65 yard touchdown last week which resulted in an interception. Until we see consistency from Cooper, find a replacement for this boom or bust receiver.
Jared Cook (vs CLE)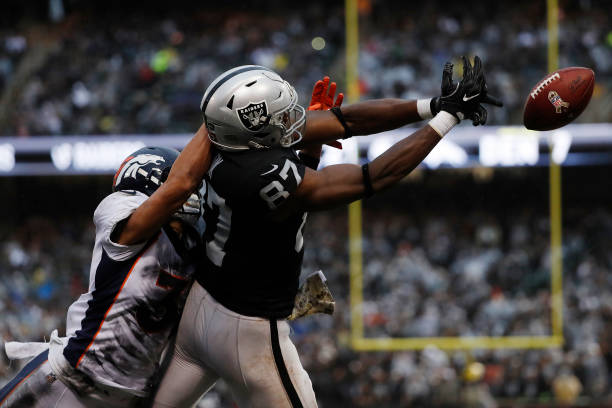 Continuing the trend of supporting the Browns defense and fearing the Raiders offense, Jared Cook is another Raiders option I would avoid this week. Yes he leads the team in targets and is a top red-zone look for Carr, but he did rack up over half of his total points week one against the Rams. His yards per catch have decreased each game this season and the Browns have been tough on opposing tight ends through their first three games. Don't chase the points Cook put up in week one. The Raiders could very well struggle against this Gregg Williams defense, and while they do provide value, I just don't see this week being one of them.
Broncos Defense (vs KC)
As crazy as it sounds, Patrick Mahomes is now the favorite to win NFL MVP. He's been on an absolute chariot of fire to begin his first season as the starter and I don't think the Broncos defense is capable of stopping him. The amount of weapons the Chiefs have utilized has just been absurd. Throw in Mahomes' ability to tuck and run at any moment, not to mention his scrambling ability, and this once formidable Broncos defense could be seeing stars. It has an extremely tough task this week as no one has come up with an answer for Mahomes and the Chiefs. Derek Carr shredded the Broncos in week two and if they resemble the defense from that game, this one could be a blowout. Now I expect it to be fairly close but Mahomes may be the most electrifying QB to start the season in years. I can't see Mahomes turning the ball over and he limits sack opportunities with his ability to scramble, leading to minimal opportunities for this defense to score many points.